5 Eco-Friendly Ways to Spring Clean
Updated April 2023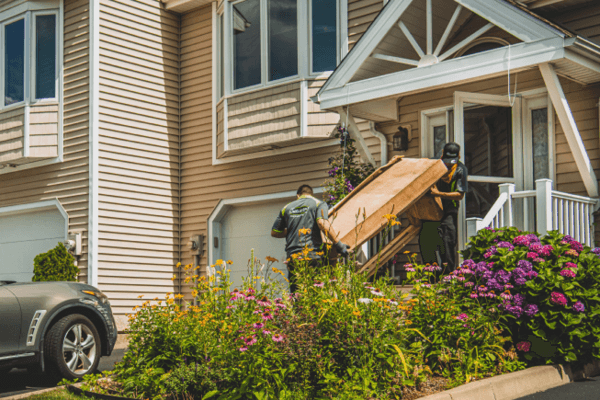 Ready to start your spring cleaning project? Learn how to make your spring cleaning more eco-friendly with our sustainable spring cleaning tips!
It's that time of year again! You know, the one when the sun gets warmer and sets later, nature flourishes, and we start to feel a new sense of ambition. Spring cleaning can be one of the most satisfying and rewarding projects of your new year. Why wait to clean when you can start today?
Your guide to sustainable spring cleaning
This season, do your spring cleaning the green way! At The Junkluggers, we need to think about the effect we have on the environment in everything we do. We've created a list of our top five cleaning tips to make your home or business sparkle the sustainable way!
Five ways to be more eco-friendly while cleaning:
Use eco-friendly cleaning supplies.

Did you know that natural products such as lemon, baking soda, and vinegar are great non-toxic cleaning alternatives?

Think about how you are disposing of your stuff.

Your e-waste, clothing, furniture, and more can be donated or recycled. Sort through items you no longer want to find them a good home or call The Junkluggers to do the heavy lifting and sorting for you!

Create a compost for food waste.

What better time of year than spring to start a compost for your garden? Eliminate landfill waste, create nutrient-rich soil, and grow your own food.

Invest in reusable cleaning supplies.

This could mean purchasing a mop to ditch the disposable ones or using rags over paper towels. If you have an old towel that is ready to retire, cut it into squares and use that for cleaning rags.

Purify your air with plants.

Houseplants like spider plants and aloe vera can improve indoor air quality and even remove air pollutants.
Eco-friendly spring cleaning doesn't have to be a hassle! Changing these little things can add up in the long run.
Green cleaning with The Junkluggers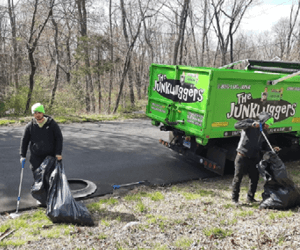 The Junkluggers are always trying to make the world a greener place to live. One way we do this is through community service.
We believe in eco-friendly junk removal and being a source of good in our local communities. Below are some ways we pay attention to our ecological footprint.
How we uphold our eco-friendly mission:
We work hard to donate your items.

Our dependable team donates as many of your items as possible to local charities and donation centers! We work with Habitat for Humanity, Mikey's Way, Alliance Against Homelessness, Lost Paws Rescue, Goodwill, and Big Brothers Big Sisters to name a few, and our franchise partners work with many local charities in their area to give back to the local community.

We make local communities better.

Our mission is to better every community we serve. Whether participating in community events or picking up litter on the side of the road during our downtime, we always aim to paint the world green!

We give back to the community.

The Junkluggers gives back to our local community by hosting coat drives, toy drives, and even Christmas tree drives! Not only does this keep items out of landfills, but it also helps those in need. Frequently, Christmas trees we pick up are taken to local wood chippers which could be used to make wood chips for government beautification projects, parks, schools, and natural habitats.

We lead eco-friendly e-waste recycling events.

Did you know that the world generates 50 million metric tons of e-waste every single year? Not only do we host e-waste recycling events, but we also always offer e-waste recycling services to prevent your unwanted electronics from winding up in the local landfill.

We always properly dispose of unwanted goods.

With a mission to enhance lives, communities, and the environment by donating, recycling, and supporting local charities, we work tirelessly to appropriately dispose of our customers' unwanted items. We donate first, recycle second, and otherwise ethically discard unwanted items last.
We are committed to being a force for change in our local communities, so when you partner with us, you can rest assured knowing you've partnered with a junk removal specialist who makes a difference! What's more, you won't have to worry about where your stuff ends up after your spring cleaning project.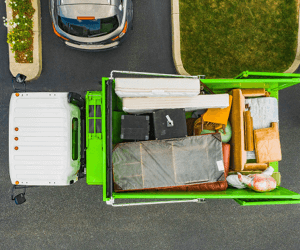 Our experts offer sustainable junk removal.
Get a jump start on your spring cleaning with The Junkluggers
As a sustainable business, we never want to see items go to a landfill. The Junkluggers can lug away just about anything from old furniture, appliances, and office items to hot tubs, swing sets, and sheds. Whether you're moving into a new office, creating a beautiful yard to enjoy this spring, upgrading, downsizing, or needing a full clean out, we've got you covered!
So no matter what you're looking to get rid of during your spring cleaning project, we've got you covered. Explore our site to learn more about the items we take and the services we offer. Contact your local Junkluggers expert to schedule your free junk removal estimate today!